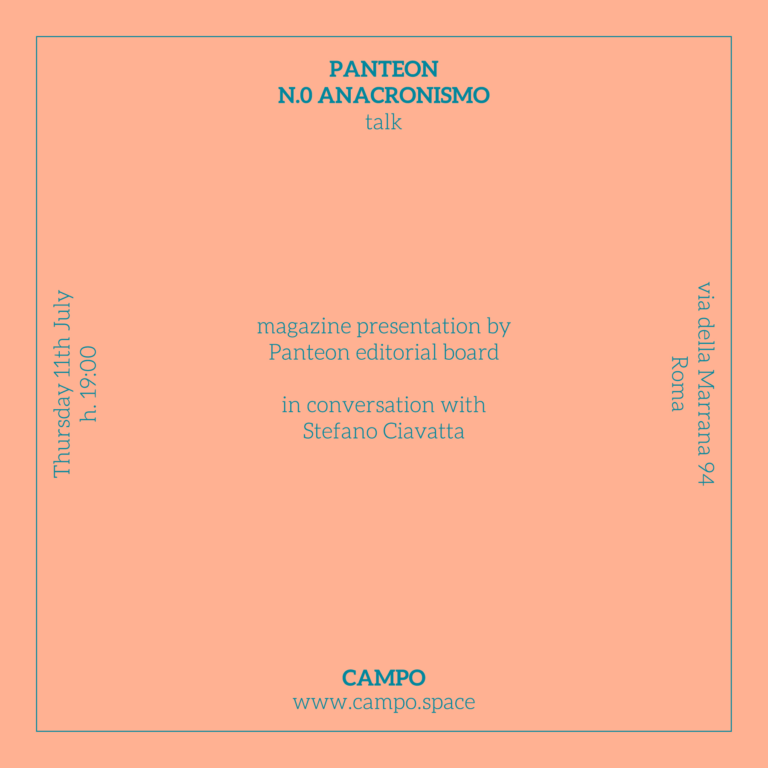 Introduction to the new magazine Panteon
Thursday 11 July 2019
h 19:00
The editorial board of the new magazine Panteon will discuss with the journalist and writer Stefano Ciavatta about the contents of the first issue and about the intentions of its manifesto:
"Let us now imagine Rome as a mental entity, not a habitat fit for humanity.
Panteon was born in this way.
It is a systematic investigation, collected on papers that taste of the 20th-century.
Panteon asks the questions, while the answers emerge from the Roman environment.
The architecture analyzed is scattered in the tangle of this large city, in which all the different styles — old and new — exist and mingle together. We are convinced we'll be able to reveal elements that are still untold, investigating an apparently measurable horizon: 1911-1989.
Like a team of haruspices, we'll interpret the guts of Rome, following real or hypothetical issues and urgencies.
Disguised as anachronistic, Panteon's action is, in fact, now — the only possible time."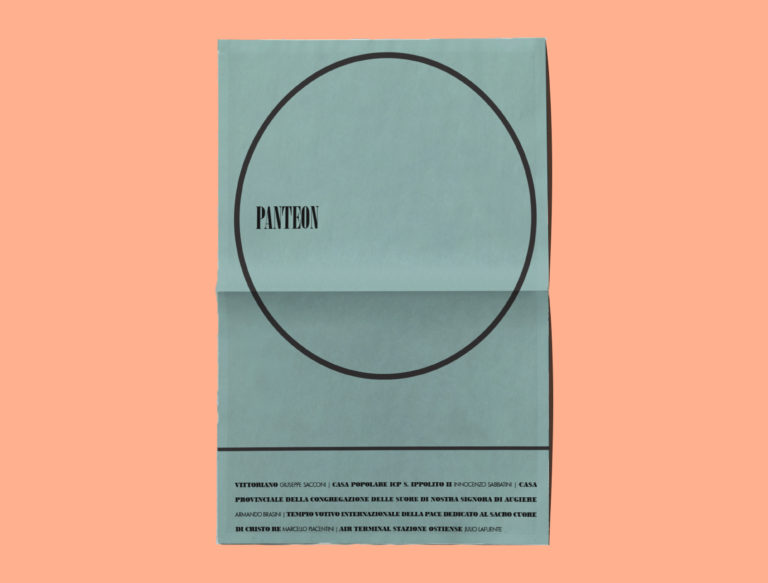 Panteon is a semestral architecture publication written and designed by architects. Panteon emerged from the urgent need to put authorial architecture at the center of the debate, today too often watered down by a quick and superficial use of information, made up of images rather than texts, made up of impressions rather than insights.
Panteon is about Rome. Rome as the pretext.
Panteon talks about Roman buildings built between 1911 and 1989, works that require curiosity and time to be known, buildings that have operated within History, silently and/or drastically. Panteon is designed for scholars and architecture enthusiasts interested in topics that are hardly discussed within the classrooms of the universities, in TV salons. Panteon seeks to develop targeted research themes and firmly believes in the possibility of spreading them, in synergy with universities, academies and study centers. The editorial project was born with the ambition to bring attention to the architectural debate, in a communicative context in which the computer algorithms contrast ease of access to information to a flattening of the same in terms of quality.
The research is intended not only as a moment of study by those who enjoy reading the magazine but also as a methodological approach to writing articles, becoming a collegial opportunity for in-depth analysis. Dissemination wants to go beyond the simple concept of sales, the hope is to entice readers, inside and outside the scientific community, to activate their own research inside the city, to interact with the revealed architectures. Starting from #1Billboards, a call for papers will be initiated, thus expanding the debate and increasing the cultural-scientific value of the action. To ensure full achievement of these objectives the articles are written in Italian and English.
www.panteonmagazine.com
Panteon is an idea of WAREHOUSE OF ARCHITECTURE AND RESEARCH
https://warehousearchitecture.org