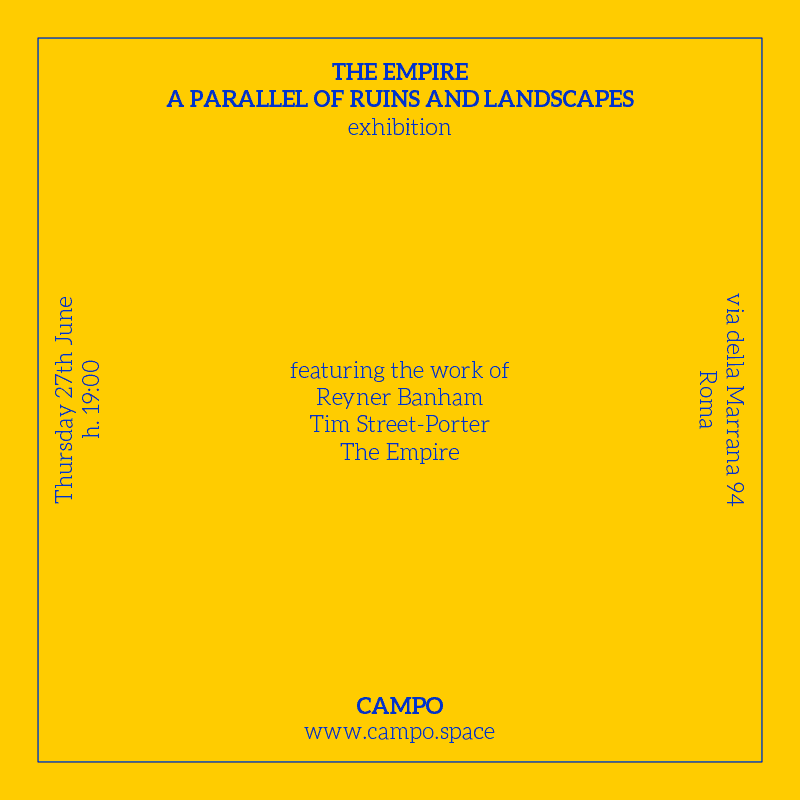 The Empire
A parallel of ruins and landscapes
Exhibition
27.06 – 28.07.2019
Opening: 27.06.2019 h.19:00
A parallel of ruins and landscapes pairs two extensive fieldworks that unfolded in the past fifty years in the American West: the first by Reyner Banham, and the second by Ludovico Centis.
Banham's research, developed since the late 1960s, was manifested in its translation into the 1979 BBC documentary Roads to El Dorado: A Journey with Reyner Banham, and later realized as a book in 1982, Scenes in America Deserta. Centis' contemporary fieldwork, developed since 2013, is framed by his ongoing research on the spaces related to the American nuclear legacy—particularly the Manhattan Project.
The parallel between the two fieldworks takes place at two scales and is made manifest through previously unpublished and unexposed materials gathered from the Getty Research Institute in Los Angeles and the Architectural Association Archives in London. At the continental scale, the routes followed by Banham and Centis are retraced and mapped in relation to major natural resources and military-complex infrastructures. The local scale is explored using four case studies: pertaining to Banham, Frank Lloyd Wright's Ocatillo Camp and Silurian Dry Lake, and pertaining to Centis, the Wendover Airfield and the Salton Sea Test Base. This exhibition explores both subtle and explicit linkages between these disparate cases.
Banham and Centis' respective ground explorations are part of a well-established tradition of road trips and fieldwork in North America, famously upheld by writers and artists such as Jack Kerouac, William Least Heat-Moon, Ed Ruscha and Lee Friedlander.
This kind of ritual has also been taken up by Europeans, including artists, scholars, and thinkers who produced seminal works and texts after their trips, including Robert Frank, Simone de Beauvoir, and Jean Baudrillard.
A parallel of ruins and landscapesoperates at two levels. Firstly, through the Ocatillo Camp case study, the exhibition aims at reconstructing and clarifying Banham's pedagogical style: the manners in which he taught his courses, guided research, and influenced the educational process of his students. Reading the letters exchanged between Banham, his students, fellow scholars, and directors of archives, we glean the way in which students negotiated an absence of extensive information and inductively reconstructed a rich image of the legendary camp established by Wright in the outskirts of Phoenix, AZ. The students' fieldwork resulted in texts and a three-dimensional model of the camp, which Banham then relied on for his own studies and the subsequent writing of the fourth chapter of Scenes in America Deserta, "Frank Lloyd Wright Country".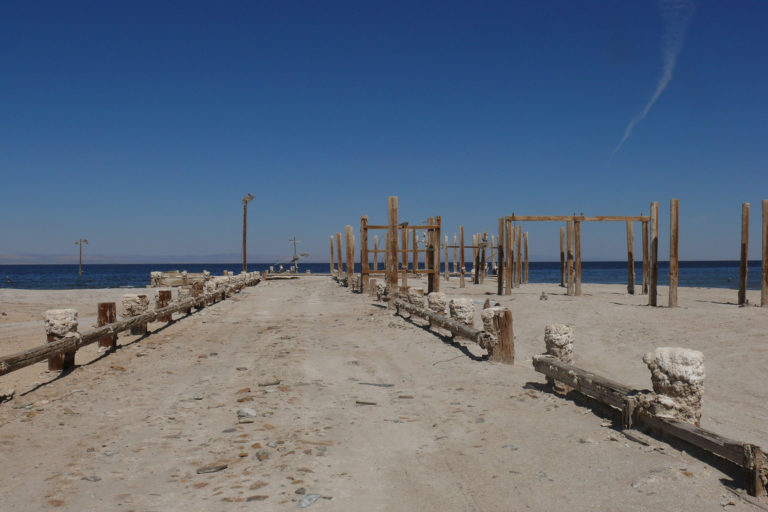 The second level relates to what Robert Maxwell referred to as the "rhetoric of presence", the authority to state something that derives from having seen it with your own eyes; presence that can here be defined as both fieldwork on site as well as archival research, in order to piece together information that was separated by unforeseen events.
Here, rhetoric of presence can translate to a sort of "architectural archaeology," in the case of Banham at Ocatillo Camp, and of Centis between the remains of the Manhattan Project's facilities in Wendover, UT, and Salton Sea, CA. This rhetoric is also defined by the careful mining of the Banham papers at the Getty Research Institute in Los Angeles and Banham slide collection at the Architectural Association Archives, particularly Banham's little-explored documentation of Ocatillo Camp.
This research effort is not simply a practice in revealing lesser known texts and episodes of Banham's life, but to engage with his work, testing its validity and points of weakness, and producing new textual and visual works that have the ambition of establishing a dialogue with Reyner Banham's brilliant, multifaceted, and occasionally elusive legacy.
Reyner Banham: A Set of Actual Tracks
A parallel of ruins and landscapesis the first of a series of exhibitions initiated by Ludovico Centis / The Empire, titled Reyner Banham: A Set of Actual Tracks. Through a fresh, critical lens, the concept at the crux of the series is to investigate and question the attitude and research methods of one of the most relevant architectural and design critics of the 20thcentury, Reyner Banham.
Some key suggestions are derived from the text that we might consider to be Banham's involuntary testament, A Set of Actual Monuments. This critical text was conceived as a never-delivered inaugural lecture as the Sheldon H. Solow Chair of the History of Architecture at the Institute of Fine Arts, New York University, in 1988. In this text, Banham analyzed the legacy of his predecessor at New York University, architectural historian Henry-Russell Hitchcock, as well as Hitchcock's role in introducing Modernism to the U.S.A in the first halfof the 20thcentury.
In this text we learn some fundamental things about Banham: he considered himself to belong to a group of "observational historians"—as Nikolaus Pevsner and Henry-Russell Hitchcock did before him—who deeply believed in the "rhetoric of presence"; the idea that the license, the authority to speak, comes from having been to a place, to have seen it through your own eyes. Banham took the occasion to recall the notion of "actual monuments," that stood at the core of the milestone book The International Style, to define a fundamental triad when dealing with the history and theory of architecture:
"For not only does architecture consist of a set of actual monuments, its history also consists of a set of actual books; and of course a set of actual historians".
Banham has left us a tremendously rich set, not only of books that we can consider as milestones and monuments in the evolution of the history of architecture, but also of tracks. These tracks are both spatial—ground explorations—and intellectual. His intellectual tracks have been disseminated throughout a constellation of essays and articles published in magazines and books throughout several decades, and recordings and transcripts from events such as the Aspen Design Conference, that Banham eagerly attended for many years.
AfterA parallel of ruins and landscapes, held in the Campo Gallery in Rome in between June and July2019, following exhibitions in the series are planned to be held in Buffalo, London, and Los Angeles between 2019 and 2022.
Texts: Ludovico Centis
Pictures: Reyner Banham, Tim Street-Porter and Ludovico Centis
Drawings and maps: The Empire (Ludovico Centis with Tommaso Petrosino)
Copy editing: Elizabeth Selby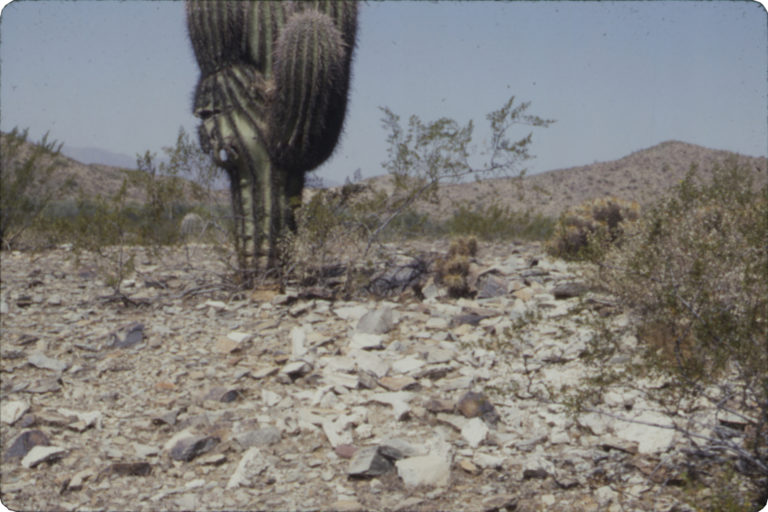 Thanks to: Ben Banham, Tim Street-Porter, Maristella Casciato, Sarah Sherman and the Getty Research Institute, Edward Bottoms, Eva Franch i Gilabert and the Architectural Association, Matthew Coolidge and the Center for Land Use Interpretation, James Petersen at the Wendover Air Field, Ilaria Forti, Daniele Pisani.
The Empire is an architecture and planning office founded in 2013 by Ludovico Centis.The office's wide-ranging activity involves both design and teaching, and both research and writing. The Empire designs interiors and ephemeral installations, buildings and public spaces, large-scale projects and territorial visions. The Empire's research focuses on the ways in which individuals and institutions, as well as desires and power, shape cities and landscapes.
Ludovico Centis is an architect, founder of the architecture and planning office The Empire and co-founder and editor of the architecture magazine San Rocco. Centis has a PhD in urbanism (Università IUAV di Venezia). He has been a partner at the architectural office Salottobuono from 2007 to 2012. He has lectured at Università IUAV di Venezia (Venice), the Politecnico in Milan, Festarch (Cagliari), the Auditorium dell'Ara Pacis (Rome), the Hong Kong & Shenzhen Biennale of Urbanism, the Palais de Tokyo (Paris), the Architectural Association School of Architecture (London), the Faculté d'Architecture La Cambre Horta (ULB, Brussels), the 21er Haus (Vienna), Cornell University (Ithaca,NY), Princeton University (Princeton, NJ), Bauhaus-Universitaet Weimar (Weimar).
Centis has been the 2013–14 Peter Reyner Banham Fellow at the University at Buffalo–SUNY. During the spring of 2015 he has been at the Center for Land Use Interpretation as a participant in the Wendover Residence Program.
Centis has been awarded a 2018 Getty Library Research Grant at the Getty Center in Los Angeles and has been a 2018 Research Fellow in Urbanism at Università IUAV di Venezia.