CAMPO is a non-profit organization that promotes, disseminates and supports the cultural debate about architecture and the city. The events at CAMPO are free of charge and made available to all through audio and video podcasts on our website.
And we would like to keep it that way!
CAMPO happens thanks to the generous contribution of a worldwide community which shares and support our activities.
Help CAMPO to cultivate its program!
Get a catalog!
Look closer at our exhibitions.
Take a book!
Read the works we presented.
Alterazioni Video and Fosbury Architecture
Incompiuto: The Birth of a Style
Humboldt Books – 2018
pp.332 Color
€25,50
Alberto Iacovoni, Domenica Fiorini
ma0's little pink book
Libria – 2016
pp.238 B/N
€18
Peter Wilson
Some Reasons For Traveling To Italy
AA – 2016
pp.254 Color
£20
Gian Piero Frassinelli, Superstudio, and 2A+P/A
Savage Architecture
Black Square – 2016
pp.86 Color
€15
Davide Sacconi and Francisco Sanin eds.
Interior Tales
Black Square Press – 2015
pp.150 B/N
€15
Superstudio – Gabriele Mastrigli
La vita segreta del monumento continuo
Quodlibet – 2015
pp.190 B/N
€17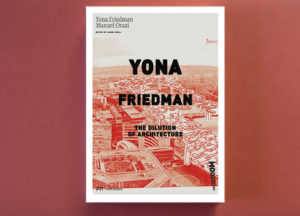 Yona Friedman – Manuel Orazi
The dilution of architecture
Park Books – 2015
pp. 582, color and monochrome
€48
Have a treat!
Fancy some more CAMPO?