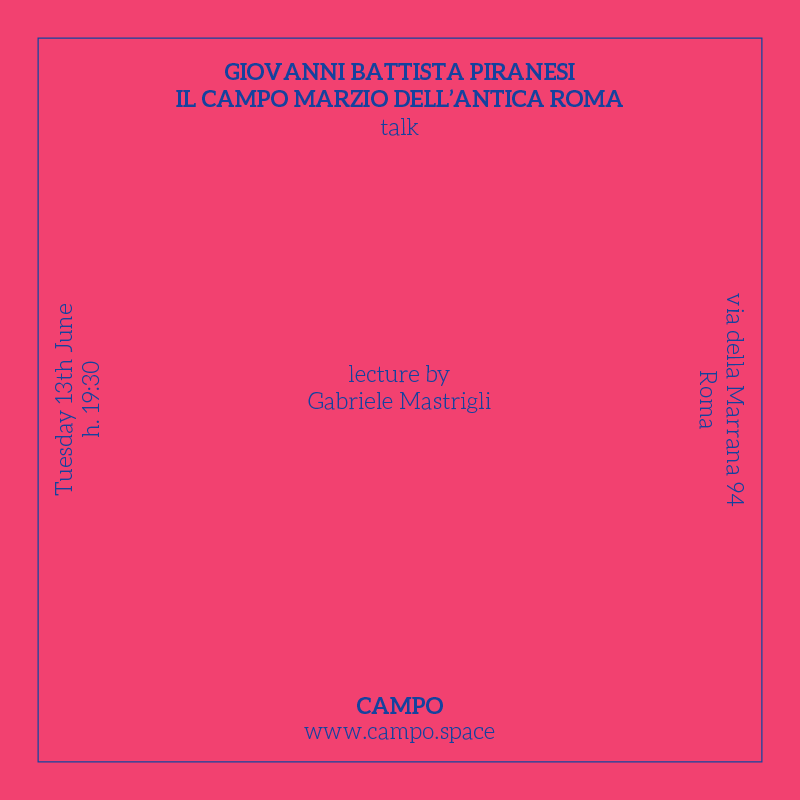 GIOVANNI BATTISTA PIANESI AND
"IL CAMPO MARZIO DELL'ANTICA ROMA"
lecture by Gabriele Mastrigli
Tuesday 13th June – 19:30
+++ the lecture will be in English and in live streaming +++
Gabriele Mastrigli discusses one of the crucial and most influential projects ever imagined on and about Rome: "Il Campo Marzio dell'antica Roma", published by Giovanni Battista Piranesi in 1762.

The analytical gaze with which the Venetian architect looks at Rome in the mid-1700s, already visible in the "Vedute di Roma", is the conceptual core of the publication.The book is a narrative in different acts. While the "Ichnographia" represents the past as a timelessness in which the language of architecture exceeds the space of the city (and even replaces it), in the "Scenographia" the future of Rome is represented by a meticulous removal of the present, uncovering the few existing ruins of its imperial past and transforming the city into a desolate wasteland.
However, the story not only represent Piranesi's harsh judgment of mid-18th-century Rome, but introduces the so called "tabula rasa" as a selective, that is, critical, act and therefore established as the new beginning of a possible city.
For Piranesi Roman architecture is not a question of mere archaeology – or, better, what today archaeology is meant to be – but a living and real problem in the city of his time.
Ruins are not urban relics to be preserved. Rather these singular elements are assigned the role of "premonitions of identity" of Rome and the very idea of the city that the "Campo Marzio" projects into the future.
When compared with the city, understood as the memory of its projects, architecture stops being the mere production and consumption of surprising forms, but becomes itself, to paraphrase Tafuri, a "historical project", the "critical act that will consist of a recomposition of the fragments once they are historicized: in their remontage".
Gabriele Mastrigli is an architect and critic based in Rome. He teaches Theory and Architectural Design at the University of Camerino. He has also previously taught Architecture Theory at Cornell University and the Berlage Institute of Rotterdam. His articles and essays appeared in the national Italian daily "il manifesto" and various magazines including "Domus", "Log and Lotus international". He edited Rem Koolhaas' collection of essays "Junkspace" (Quodlibet, Macerata 2006 and Payot, Paris 2011), "Superstudio, La vita segreta del Monumento Continuo" (Quodlibet, Macerata 2015) and the monograph about the florentine radical group "Superstudio. Works 1966-1978" (Quodlibet – Habitat, Macerata 2016).