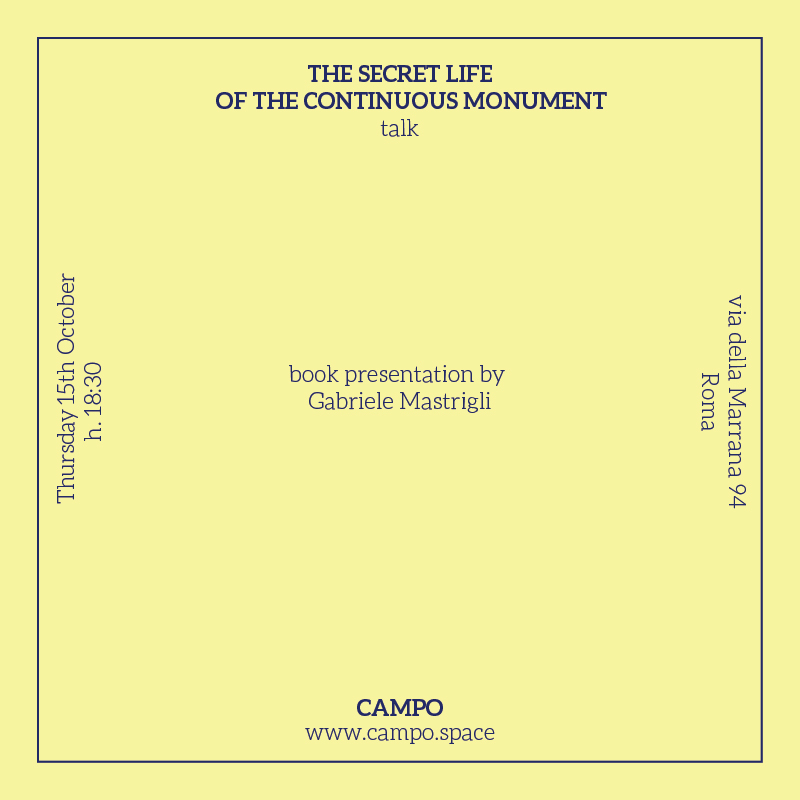 THE SECRET LIFE OF THE CONTINUOUS MONUMENT
Thursday 15th October – h 18:30
Book presentation by Gabriele Mastrigli
Listen to the podcast of the talk (Italian language):
Founded in 1966 by Adolfo Natalini and Cristiano Toraldo di Francia, who were later joined by Gian Piero Frassinelli, Alessandro and Roberto Magris and Alessandro Poli, Superstudio has been among the most influential groups of the so-called radical architecture.
Within the politically charged atmosphere of the new Italian avant-garde, the Superstudio develops in Florence under the influence of three great masters – Benevolo, Ricci and Savioli – in parallel with Archizoom, 9999, Ziggurat, UFO, Gianni Pettena and others.
Despite the metaphysical dryness of the images – perhaps the harshest critic to the redeeming claims of the Modern Movement – Superstudio was far from an homogeneous group. Adolfo Natalini arrived to architecture from painting, Cristiano Toraldo di Francia from photography and Gian Piero Frassinelli cultivated a particular interests for anthropology.
Gabriele Mastrigli's talk at CAMPO will recount the conversations with the three protagonists collected in the book Superstudio. La vita segreta del movimento continuo (Quodlibet, 2015), made on the occasion of the Venice Biennale directed by Rem Koolhaas – who's debt toward the Florentine group is well known.
The conversations trace, each from a different point of view, the entire path of Superstudio: from the seminal exhibition Superarchitettura to the dystopian visions of Continuous Monument (1969) and Twelve ideal cities (1971), until the Fundamental Acts (1972-73), the most ambitious attempt to address the relationship between life and project through a radical anthropological and philosophical refoundation of architecture.
At the same time the three stories reveal that the project of Superstudio was to sublimate the peculiarities of its members in a superior and anonymous subject that could transform the autobiographical cipher in a collective operative strategy and work method.
It is an attitude that still today, fifty years after Superstudio's debut, keeps influencing entire generations of architects and designers.
Gabriele Mastrigli is an architect and critic based in Rome. He teaches Theory and Architectural Design at the University of Camerino. He has also previously taught Architecture Theory at Cornell University and the Berlage Institute of Rotterdam. His articles and essays appeared in the national Italian daily "il manifesto" and various magazines including "Domus", "Log and Lotus international". He edited Rem Koolhaas' collection of essays Junkspace (Quodlibet, Macerata 2006 and Payot, Paris 2011) and Superstudio, La vita segreta del Monumento Continuo (Quodlibet, Macerata 2015). He is currently writing a monograph about the florentine radical group Superstudio.